In Spain, 9 out of 10 inhabitants know how to ride a bicycle, and cycling in this country is not only a sport, but it is also a liberating experience in which to connect with the environment and with oneself. Cycling you can find your moment of peace and reflection in the midst of the hustle and bustle of modern life.
If what you want is to exercise whenever you want without worrying about the weather or traffic , adapt your training to your specific goals and follow your progress easily and in real time, a spinning bike is what you are looking for! And it is that pedaling on top of an indoor cycle has many more benefits than you think...
1. Improves Cardiovascular Health:
As in any other sport where cardio is worked on, cycling helps reduce the risk of cardiovascular diseases . By pedaling, the heart rate increases and blood pressure drops, and the heart wears out less.
And as if to prove a button, today we bring you the story of Mar Hernandez, who managed to overcome breast cancer with the help of cycling . It was when it was detected for the first time that he discovered cycling, which helped him go through chemotherapy more easily . Mar overcame the disease and today he faces different cycling events around the world. Without a doubt, a source of inspiration.
2. Helps to lose weight:
As many of you already know, spinning is a perfect ally if you want to lose weight. According to different studies carried out in this regard, practicing exercise with a bike, you can lose up to 500 calories per hour , depending on the weight and intensity . This graph shows the countries with the largest number of bicycle users in the world , data that is very relevant if you compare it with obesity in each of them.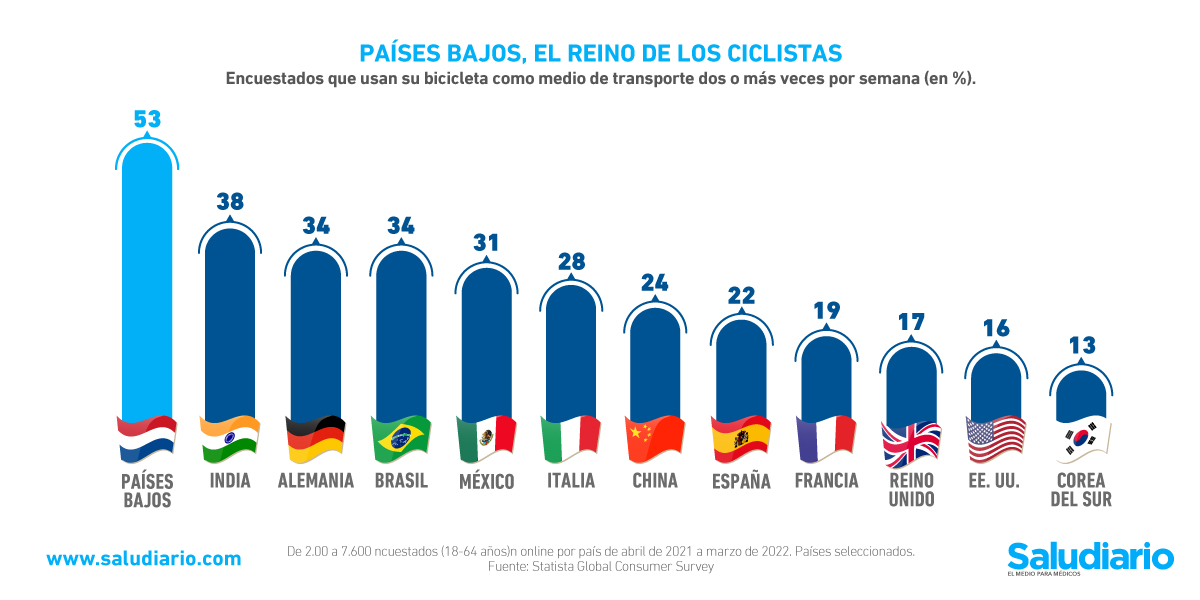 3. Strengthens muscles:
We have always seen impressive images of cyclists at the end of a competition, where the muscular level is impressive for any spectator.
The muscles that are worked the most with cycling are the legs and buttocks , but it also helps to tone the abdomen or back, since they are important for maintaining posture when pedaling.
4. Reduces stress:
As we have commented at the beginning of the post, the bicycle is perfect for connecting with yourself and achieving the inner peace that you need at all times.
A large amount of endorphins are also released, which will serve to moderate the stress accumulated in the body . According to a study published by the BMJ open medical journal, cycling 3 days a week reduces the risk of stress by 52%.
If you are not in the habit of cycling, you can start practicing from home with an exercise bike or an indoor cycle , which can be less aggressive and more fun options to start with.
5. It's a fun way to exercise:
New technologies have also reached the world of two wheels and thanks to the new smartbikes , you can optimize the performance of your training in a fun way, thanks to the connection with the different training applications that offer you the possibility of competing against yourself or against other cyclists from around the world.
If what you want is to train alone , smartbikes also provide you with a brutal user experience, since you select a route from anywhere in the world and the bike adapts to the terrain virtually , simulating the slope of a port or a descent , even in some cases, such as the new Wahoo Kickr Bike v1 , simulating all the turns of the route.
Have you also gotten the bug? Well hurry up! At Sportech Fitness we are celebrating World Bicycle Day with a 5% discount on all the spinning bikes on our website, but start pedaling doesn't hurt so much.
Use the coupon "BIKEWORLD" during the purchase process before Saturday June 3 and get an indoor cycle for very little and if you are still a little lost, do not hesitate to contact us so that we can help you in your choice process.
---